The notepad I'm going to post today, uses scallops made with a corner rounder. I'd like to show you how I made them.This corner rounder is by Provo Craft.
As you can see, the guard comes off. You'll need to take it off to make scallops.
Punch your first scallop, and then move the corner rounder along the edge of the CS. As you can see in this photo, you want to be able to see just a little bit of a space. Now punch, and move the corner rounder to make another scallop.
That's all there is to it. It's that easy.One caution...make sure your paper is not in crooked...as in the photo below.
Now go make some scallops!!!
Enjoy,
Deneen
If you don't want to end up with half a scallop on the edge, (notice the white scallop)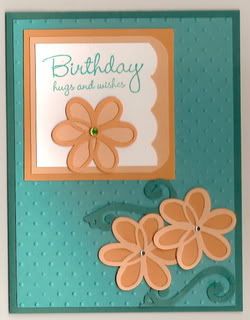 I just eyeball the center of the piece I am working with, and punch my first scallop there...and then work outward to each edge. Hope that makes sense.